My clients particularly appreciate my warm, practical and respectful coaching approach, my own personal life experience as a human and expat, and as an academic.
I follow a Person-Centred approach which means that I am genuine towards the client, avoid judgement and provide respect and empathy. The client is central in the process in which I act only as a facilitator. I also use some integrative techniques such as elements of positive psychology, projective cards, stress reducing techniques and nature walks.
I  listen to you while acting as a mirror, reformulating your story, as I understand it, and create a supportive environment that allows you to experience personal growth and to find new, often unexpected, creative solutions.
I use the developmental model, "The Fork" (R.Vandamme),  suitably tailored to the client :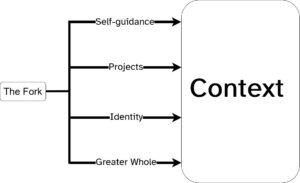 The Person-Centred approach
Introduced by Carl Rogers, also known as humanistic or Rogerian. 
Watch this video for a short explanation by Carl Rogers himself:
For more information click here and send me a message